Tessa Norton The Fields Here Are Full of Ghosts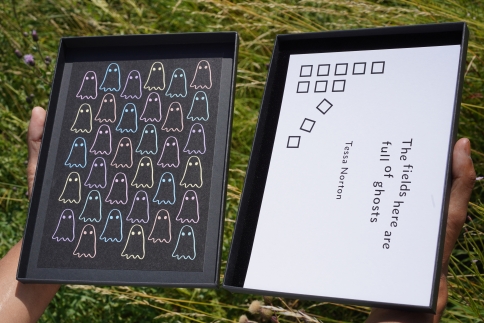 Price includes UK postage.
For overseas purchases, please email info@wysingartscentre.org to arrange additional payment for shipping.
£45.00
Loose leaf publication, boxed
Edition of 100
170 x 240mm
Wysing Polyphonic WP003.
The Fields Here Are Full of Ghosts is a new experimental text commissioned by Wysing with funding from Arts Council England. Norton produced the edition over a flexible multi-part residency at Wysing in 2018, which she attended with her family. The work is a beautiful boxed publication in which Norton's splintered narrative is arranged over a multi-column looseleaf format, echoing the Zener flashcards designed in the 1930s to measure parapsychological ability. Norton's text takes her experience of becoming a parent as a starting point to explore joy, grief, ghosts, memory, pop music and the elasticity of time.
The Fields Here Are Full of Ghosts by Wysing Arts Centre on Scribd