Various artists Ways of Working: A RATE OF EXCHANGE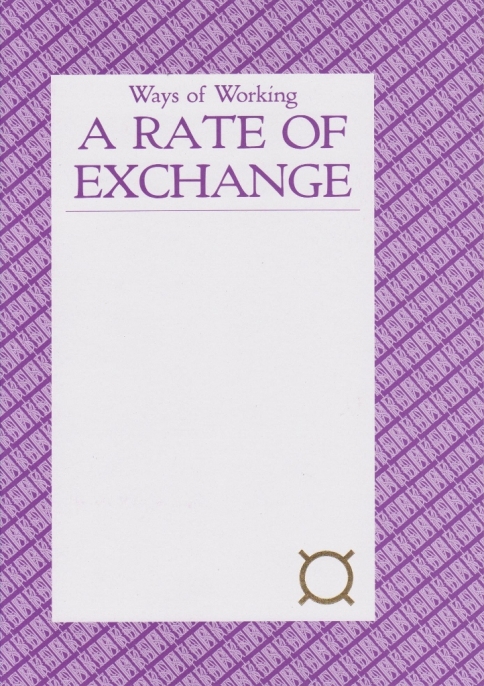 2013
Edition of 750
For overseas purchases, please email info@wysingartscentre.org to arrange additional payment for shipping.
£11.50
Ways of Working is a book series published by Wysing Arts Centre and Escalator Visual Arts in collaboration with Publish and Be Damned and Unrealised Projects.
It lives in relation to participants of Escalator, the progamme of support to artists and curators held at Wysing built around an ongoing series of four-day themed retreats, organised in partnership with curators on the Royal College of Art MA Curating Contemporary Art programme. Workshops, talks and group editing projects are the main activities. This publication series, designed by Unrealised Projects, is a kind of exploratory research reader around the ethos and activities of the programme. A RATE OF EXCHANGE, which takes the theme of 'value' as a starting point, is the second in this series of publications.
Ways of Working is Edited by Kit Hammonds, Gareth Bell-Jones, Sam Ely and Lynn Harris
Managing Editor: Louise O'Hare
Design: Sam Ely and Lynn Harris
Contributions by Åbäke, Adam Burton, Neil Cummings, Mat Do, Tom Durley, Eppark, The Grantchester Pottery, Kit Hammonds, Catherine Hemelryk, Livia Lima, Hayley Lock, Making A Living, Laura Morrison, Louise O'Hare, Kate Phillimore
ISBN 978-0-9539222-5-3