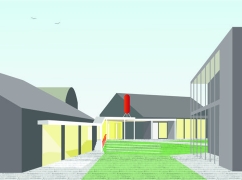 We are excited to share the news that we have appointed London based OEB Architects to lead an ambitious refurbishment of our site.
Of their appointment, OEB Architects said "OEB are very excited to be working with Wysing on its next phase of works, with an approach of focused alterations and additions that help to improve the access, usability and sustainability of the site. We aim to balance the need for adaptable and undetermined spaces with legibility and connection between the different elements, making the most of the character of what already exists."
Initial plans include a pavilion that will form a focal point for visitors alongside a reconfiguration of spaces to increase natural light and allow for more flexibility of use.