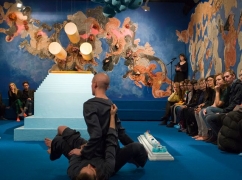 In 2019 Wysing Arts Centre celebrated its 30th birthday.
Across the year we received donations of £30 or more that went directly to supporting some of the most radical artists working in the UK today.
Please consider becoming a Friend of Wysing. Your donation will help us provide the crucial support artists need to develop and make new work and keep our programmes free for artists at all stages of their career.
Image: Florence Peake, Eve Stainton and Tai Shani live event as part of Peake and Shani's two person exhibition,
Andromedan Sad Girl, 2017