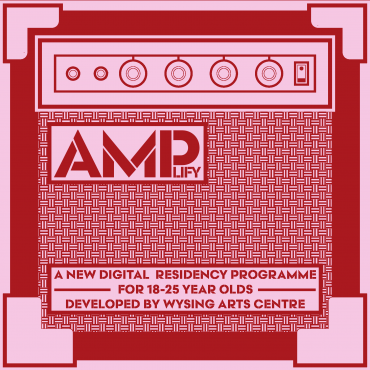 Amplify Residency
9 - 12 August 2019
Wysing Arts Centre hosts many artists in-residence across the year in our onsite farmhouse and range of artist studios. This new short residency, entitled Amplify, invites artists aged 18 to 25 years, to test new approaches and ideas through workshops and talks, whilst also having time to develop their own work. The residency takes Wysing's forthcoming exhibition, All His Ghosts Must Do My Bidding' as a starting point for discussion and making. Artists have the opportuntiy to work towards a Gold Arts Award, attend the annual Wysing Polyphonic music festival, stay on site at Wysing and make use of the facilities to develop knowledge of contemporary art practice with a focus on digital media and sound by working with artists Jack Cornell, Joey Holder, Jill McKnight and Harold Offeh.
Selected artists for AMPlify 2019 are: Joe Beedles, George Bularca, Dan Guthrie, Mourad Kourbaj, Anya Levicki, Blue Maignien, Liberty Quinn and Muneerah Yate.
Friday 9 August
Following site inductions and a social lunch, the group will be taking part in an icebreaker and movement workshop with artist Harold Offeh around Wysing, exploring the most urgent concerns within their artistic practice. The group will have have the opportunity of 1:1 mentoring sessions with Harold Offeh and explore All His Ghosts Must Do My Bidding before cooking a communal dinner at Wysing.
Saturday 10 August
The group will start the day with exploring the possibilities of the Polyphonic Recording Studio at Wysing, before enjoying a communal lunch. The afternoon will start off with an introductory talk on digital practice by Joey Holder, before the artists are invitited to explore digital image and video manipulation with projections to create new narratives from a fragmented realtiy. Artists will have the opportunity for 1:1 mentoring with Joey Holder before cooking a communal dinner at Wysing.
Sunday 11 August
After breakfast on Sunday the group will have a chance to reflect and develop their own work, before investigating Jill McKnight's working process through a talk and collaborative sound workshop to explore the different character roles that artists play. The group will enjoy a shared lunch before continuing with collaborative activities or their own work, and 1:1 mentoring sessions with Jill McKnight. The group will walk into Bourn to enjoy dinner together.
Monday 12 August
Monday morning will offer artists the opprunity to each use 20 minutes of group time as they would like; to discuss ideas, ask questions, or interrogate new projects with AMPlify artists and Wysing curators John Bloomfield and Amanprit Sandhu. After the last communal lunch the group will have the opportunity to reflect on their experience of the weekend and set new aspriations in a digital GIF making workshop with Jack Cornell.