Blogging about some of the things happening at Wysing, or influencing what happens at Wysing.
Tag: wysingpoly
Wysing Poly 19 December 2016
I wrote a piece for Arts Professional magazine on our 2016 programme, Wysing Poly. Here is it in full. Click on the hyperlinks to go to pages in the website archive.
Each year at Wysing we theme our annual programme as a way to both state what will underpin our programme interests throughout the year, and as a way to draw artists and audiences around concepts and ideas. The theme in 2016, Wysing Poly, emerged as it does each year, from discussions that have taken place during public events the previous year. Perhaps people coming to those events aren't aware how carefully we listen to what is being discussed, and not simply by those presenting. In fact, all our programmes are generated in response to the many dialogues and concerns raised by those who work with us or attend our events and exhibitions. One such discussion that took place between Irene Revell, of the arts organisation Electra, and artists Conal McStravick and David Toop, centred on a period in the UK in the 1970s, a time when artists were experimenting with early video, sound art and live performance. Listening to Toop recounting his first-hand experience of the period it became clear that many of these experiments were taking place within Polytechnics, which were at the time centres of leftist thinking and experimental art practices.
That discussion, which was attended by many of the artists who were participating in our Summer School and who contributed to it, clarified my thinking about the changes to higher education that we are seeing today, specifically in the way that the arts curriculum is being aligned to the creative industries, and what this means for those studying art. If art, particularly art education, is linked to an economic case for culture where do the places for an open ended artistic exploration, one that has no pre-defined outcomes, lie? The discussion, alongside our ongoing role in delivering an alternative learning programme, The Syllabus, with five organisational partners across the UK, led to the decision to explore these questions throughout all aspects of our 2016 programme under the heading Wysing Poly.
Fundamental to the Wysing Poly concept was that every element of the programme would be devised by artists, and where possible these events would form part of an art practice, so that enacting the events would be both useful in informing individual art practices as well as engaging wider audiences.
The key programme, around which everything else was, and always is, located, is the artist residencies. For these, artists re-locate their homes and studios to Wysing for two months, living and working together in small groups. For 2016, residency artists were recruited through an open call for applications and Larry Achiampong, David Blandy, Beatrice Dillon, Henna-Riikka Halonen, Evan Ifekoya, Wojciech Kosma, Lawrence Lek, Laura O'Neill, Florence Peake and Gary Zhexi Zhang were selected.
As part of the application process, artists were asked to suggest topics for Study Days that could be developed and shared as public events during residencies. However, once the artists had met one another, and began sharing ideas with eachother and with us, the question of what it means to learn and be taught continually re-emerged. Some of the most memorable, as well as challenging, events across the year came from this process. This included a Study Night for which the audience participated in experiential learning from dusk to dawn, and a Radio Study Day that explored learning through concentrated remote listening and which was broadcast live from Wysing. A Study Day in the autumn explored the history of video gaming culture and included a live gaming tournament. Numerous other Study Days took place across the year alongside practical courses on subjects such as casting and print-making, led by artists working from Wysing studios.
A key discussion series was Summercamp for which we invited external contributors to respond to the Wysing Poly theme. Professor Gavin Butt of Goldsmiths College devised a symposium that explored Leeds Polytechnic in the 1970s, out of which came a number of highly politicised bands and theatre groups including Scritti Politti. It was fascinating to hear Green Gartside recount the band's origins in Leeds Poly as a Marxist collective. This event also revealed the exclusions of the period by missing the opportunity to include artists outside the preconceived white mainstream of punk. The second symposium was led by Ruth Catlow and Marc Garett of the collective Furtherfield and explored the role of online and digital space as a creative Commons. The third and final symposium was curated by artist Sonia Boyce in collaboration with Evan Ifekoya who was in-residence at the time. The event explored the role of music and dance as a site for commune, and for dissent, and was structured so that periods of discussion gave way to dancing but with the discussion carrying through to connect thought and movement.
Three Study Week retreats, where small groups of up to fifteen participants applied to stay at Wysing for a period of concentrated research and sharing, were devised by artists. Cally Spooner's Study Week, which explored the disconnect between mind and body, was her contribution to the group exhibition The Practice of Theories, which launched the Wysing Poly programme and which, alongside a solo exhibition by 2015 residency artist Joey Holder, underpinned the ongoing discussions. Jesse Darling's Study Week explored the role of ritual in art and in life, and the year ended, fittingly, with a Study Week devised by David Toop, on the act of listening.
Across 2016 Wysing Poly touched on the many concerns and interests of many people and that is what made it such a rewarding programme to be part of. The over-riding lesson learnt is that spaces for this kind of artistic experimentation are greatly valued and all our programmes throughout the year were heavily over-subscribed. The question for Wysing now is how to make sure that no-one is left behind, left out, or over-looked both in terms of the diversity of artists we work with and the audiences we are reaching. We need to make sure that there is space for many different voices.
Tags: wysingpoly |
Wysing Poly 6 February 2016
So, I'm a bit lapsed with blogging because there has been a lot going on and it's often difficult to find time to quietly reflect. If you've seen any of our publicity for our 2016 programme you'll know that we are taking Wysing Poly as the starting point for the year's programme. Just to explain the thinking behaind that - for quite a while now we have been introducing new programmes to support artists at different stages in their lives. What tends to happen is when a programme becomes established - like residencies and retreats - they become over-subscribed and increasingly competitive. We've been looking at current residency applications over the last couple of weeks and they are incredibly impressive - well considered, relevant and very international which is not surprising as we specifically asked for diverse cultural and artistic perspectives in this call out. But more about residencies another time. When programmes become over-subscribed then we create new ones to fill the gaps - hence retreats, study weeks, study days, Circuit and The Syllabus for which we are collaborating with peers across the UK on an altternative learning programme. Wysing Poly has emerged from this background but it is specifically rooted around the word Poly to reference the meaning of Poly - many - and the Polytechnic. That's because last summer we hosted an event curated by Irene Revell of Electra which involved David Toop being in-conversation with Conal McStravick about the legacy of the artist Stuart Marshall, who died in the early 1990s and who had been central to emerging video and sound art in the UK during the 1980s. Listening to David Toop it suddenly struck me what an experimental time it was for the arts in the 1970s and 1980s, when networks of artists slipped in and out of roles to generate an energy that seems to have re-emerged today in the plethora of impressive artist-run spaces and initiatives. This energy came out of centres of learning, predominantly Polytechnics, in a way that seems to have been lost today; as Universities have been pressurised to operate as businesses. Wysing Poly is our contribution to this discourse and alongside residencies we will be hosting events and discussions that both look back to the 1970s and 1980s, a period which did of course also have it's problems and exclusions, and look to what is happening now in the arts and education. Wysing Poly starts on 13 February, 6-8pm, with the launch of a group exhibition The Practice of Theories that brings together some of the people who have influenced the year, not least David Toop. Join us if you can.
Tags: wysingpoly | thepracticeoftheories |
OPTICAL ILLUSIONS POLITICAL DELUSIONS 7 December 2015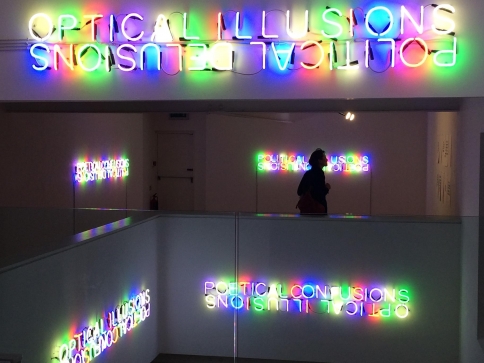 Interesting time in Plymouth last week talking about our 2016 programme Wysing Poly (more info here) and good to see this Tim Etchells show at Plymouth Arts Centre which seemed perfectly timed with current politics. Off to Norwich this week and then it's our final event for 2015 this Saturday afternoon. Hope you can join us.
Tags: themultiverse | wysingpoly |