Giles Round and Contributors Bourn Cookery Book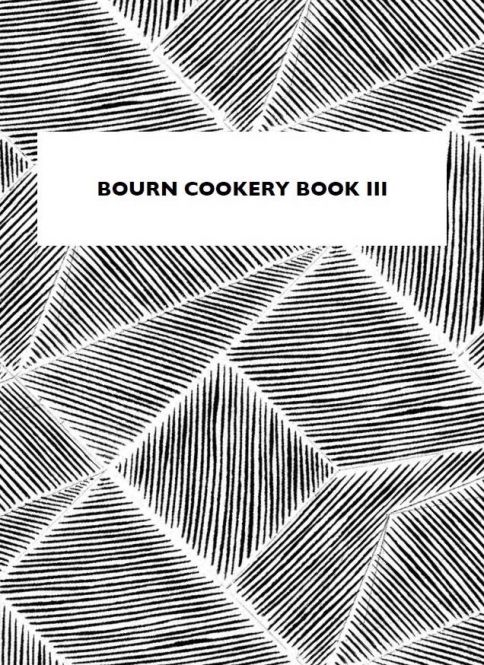 Price includes UK postage.
For overseas purchases, please email info@wysingartscentre.org to arrange additional payment for shipping.
£9.00
This is the third edition of the Bourn Cookery Book. The first was published in 1992, followed by a second edition in 2007, with all three helping to raise funds for St Helena & St Mary Parish Church in Bourn village. The first two versions of the book document some of the favourite recipes of the residents of the village at the time of publication.
This third edition of the book takes a different approach. Recipes have been compiled by Giles Round, an artist who has had a long association with Wysing Arts Centre and who cooked recipes from the original Bourn Cookery Book whilst in-residence at Wysing in early 2011. The recipes he has brought together come again from village residents, including Margaret Greenwood and Pat Russell, creators of the first two books and we are extremely grateful to both Margaret and Pat for allowing us to continue the tradition of the Bourn Cookery Book.
The book also contains recipes from people associated with Wysing and it is touching to see recipes from Wysing's original founders, cooked in the early days, some twenty five years ago, when Wysing was making the transition from farm to art centre. Other contributions come from artists who have been in-residence over recent years, some of whom have chosen to jointly contribute a recipe, those who work from studios, and from current staff.
The book could not have been possible without the ongoing support and encouragement of Jo and Mark Proud of Bourn's Manor Farm. The farm and its Great Barn date from the 13th century and has been in Jo's family for generations. Jo herself illustrated the original cookery book whilst still at school.
So, the third edition of the Bourn Cookery Book is a coming together in all sorts of ways. We hope you enjoy cooking from it. To see a list of contributors to the book, click here. To buy the matching tea towel click here.
ISBN 978-0-9539222-7-7