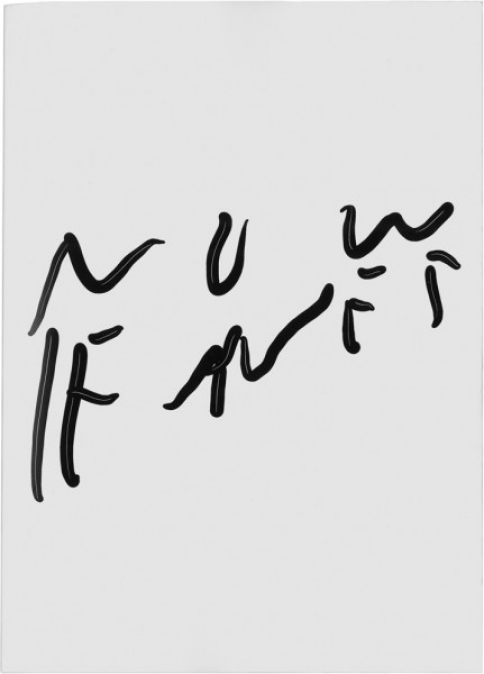 2015
Price includes UK postage.
For overseas purchases, please email info@wysingartscentre.org to arrange additional payment for shipping.
£13.25
'NOW LEAVES describes leaving and having left. Glossolalia like, against noise, about the bones of a writing, written in tongue graphics legible by reason of the trees with as many words as there are leaves. The percussion of these leaves is f***ing news. The percussion of these leaves is not his news. The percussion of these leaves is not her news. The percussion of these leaves is definitely not their news.'
– Michael Dean
NOW LEAVES presents itself as a block. Physically it adopts the scale of a human hand, its weight present, its structure flexible, almost human. The pages fall loosely apart to reveal dense black graphics – letters shaped as tongues, twisted to form barely legible words. Each page inscribed, playing on repetition, the word 'leaves' repeatedly tongued. The successive pages form statements, occasionally benign – it starts LEAVES FOR LEAVES – but as the pages turn a more visceral violence exudes from the pages – SLAVE LEAVES HAPPY LEAVES, FUCKING LEAVES LOST LEAVES KILL LEAVES, BLOODY LEAVES POSITION LEAVES. Whilst visually arresting, the experience of reading Dean's book reduces reading to the physical intimacy of your own mouth; as you to attempt to read the barely decipherable words to take pleasure in the babble, you feel your eyes contort as your own tongue does trying to shape the words, tempted to twist, stretch or replicate the graphic tonguing on the page.
Dean's work is often concerned with the play of legibility through the creation of private lexicons. The relation between spoken word performance and its graphic representation, often in the form of private, personal and self-made typefaces, is one key to his work. The otherwise mute objects are inscribed, via clues, or fragments of lettering, with a personalised form of writing, which gives the opportunity of animating the artwork. Here the book operates as a form of sculpture, inscribed with both a personal and bodily form, to be read, spoken or carefully deciphered.
NOW LEAVES is co published by Book Works and Wysing Arts Centre in association with de Appel Arts Centre, Amsterdam and Extra City Kunsthal, Antwerp, with additional support from Herald St., London, Supportico Lopez, Berlin and MendesWood DM, São Paulo, as part of the Co-Series, No. 8. Edition of 1,000 copies, with a soft cover. 640pp, black and white throughout, with a loose-leaf colour insert. Concept by Michael Dean, production by Fraser Muggeridge Studio. 168 x 120 mm. ISBN 978 1 906012 71 7.
Michael Dean was in-residence at Wysing in 2013 during the Convention T residencies. Read more about the residencies here.